gallery key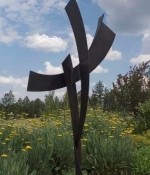 "To Mountains and Skies"  Welded Steel Sculpture
When I was almost through art school and planning to move to Colorado, my husband-to-be treated me to a work session with a local Master Welder as a gift on one of my trips out.  I designed this sculpture which Marvin Cordova welded while I acted as assistant and did some of the finishing.   It was in the Steam Plant Sculpture Park in Salida, CO for several years,  but now stands in our front yard.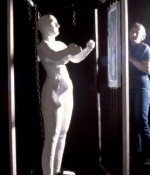 "Where am I Going?" Wood, wire frame, bandage gauze maché, wood, glass, fishing line, metal chain
I did this for my senior sculpture project in art school under the tutelage of Catherine Murray, a visiting professor.  It consisted of a trapezoidal wooden frame with an old opaque window and heavy metal chains draped on the top.  Inside was a plaster cast of me which a friend did.  In order to keep my arms up while she draped me in plaster cast material, we tied my hands to a towel rod until she could do the whole thing and set me free.  In spite of a wooden and chicken wire structure to hold the cast, it has sagged over the years, but stands in my studio today with a CO Rockies cap on it (minus the frame)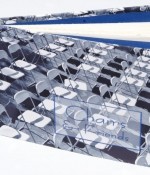 "Chairs and Friends"  Handmade and bound Book of images and text
If ever the term "with blood, sweat, and tears" is applicable, it is with the making of this book, my first. The contents are etchings and photographs of chairs, a common theme of mine, with minimal text.  The picture on the cover (shown below in black and white) was reversed for the back of the book.  This piece was selected for a juried show at the Maryland Federation of Art in Baltimore, MD.  Perhaps, it should have been named the Project of Anguish for the fretting I did.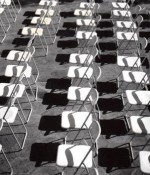 "Illicit Chairs"      Black and White Photograph
While on an artists' retreat in France, I saw these chairs lined up ready for a presentation at an art museum in Nice.  I was on an upper level and shot this.  I think cameras were forbidden in the museum which explains the title.  I came out and was about to get on our bus when I saw a police car.  I was absolutely sure I had been found taking pictures and was off to a French jail.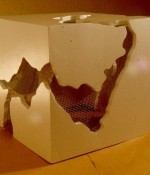 "Akilter World"   Wood and Hardware Cloth  Sculpture
When Catherine  Murray spent a year teaching in my art school, this was another project.  I wanted to emulate an earth, but intentionally squared to show "abnormal", not functionally round.  I then cut  openings after assembling the box.  The openings are lined with hardware cloth.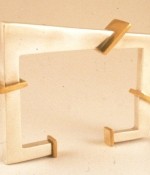 Bracelet   Silver and Brass
I made this when I took Jewelry in art school.  Basically there were several pieces which I connected with brass inserts.  It and the necklace were chosen to be exhibited at a Metals show at Penn State University.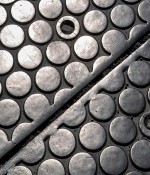 Grid Texture   Black and White Photograph
One day, I decided I might submit textural images to I Stock so I walked around town with a tripod and camera and took abstracted textures.  I never submitted to IStock, but this was a picture I did at the railroad crossing where metal plates were built into the tracks.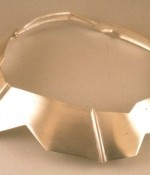 Necklace   Silver and Brass
This was another jewelry project in art school using the same technique of making several pieces both in silver and brass, then connecting them to form the whole piece.  At the time, I decided I would "never" work on items this small, but here I am 20 years later doing just that!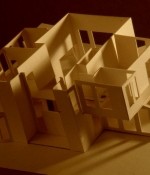 2500 Square Foot House Maquette   Mat board, Glue, Foam core
This was a house I designed for a 3D course in school.  The instructions were to design and build a scale model of a 2500 square foot house.  I first did the drawings on architectural paper, then built the maquette.  I'm not very good with measurements so it was a tedious task to construct the model.  I  finished at 3 am and the project was due the following morning.  The experience served me well, though.  Years later,  I designed our house in Colorado.  That began with drawings and ended with an exact model to scale.  I left the roofs to the imagination of the viewer or the expertise of the builder!!!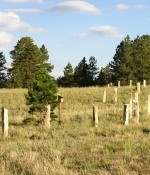 "Lifeline"  Limestone Rock Installation
The first time I drove from Pennsylvania to Colorado, I had a love affair in Kansas.  With the stone fence posts which were quarried to use in place of wood since trees were scarce.  From the first sighting, I vowed to do something with limestone fence posts.  One year, I put flags out in the front meadow of our property, then stakes, compiled a team of workers and BIG MACHINERY!  I had ordered the posts from a local company who went to Kansas, then delivered the mass of pallets directly to the property and unloaded them with a skidster.  The process was:  I pick the post, it's hoisted up and delivered to a pre-dug hole, where several people adjusted the angle, the position, and filled in the holes.  There are 76 posts altogether, but several broke so they are at the very end.  The undulating line starts over a rise in the ground, then comes downhill, jumps over the road (a pivotal point in my life), and continues down many more feet where it stops.  The aid of the work crew and some of the struggles in the installation all are significant.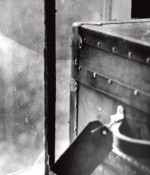 "Lamentation"   Black and White Photograph
When I prepared to move to Colorado, I left a farm that my parents restored and worked, and where I lived for many years after I moved back to Lancaster County after Philadelphia.  The attic had accumulated vast amounts of "stuff" from old trunks, boxes of fabrics, my mother's doll collection, etc.  I was excited to move but it was a poignant time when I knew I was leaving.  I took this photograph in the attic and the rainy window reflected my emotions.  I had used the old trunk to go to camp as a child, but the dreariness of the scene matched  the mood of my heart at that moment.   I later used this photograph to make a series of solar etchings and like much of my work, it contains a common element of "dark".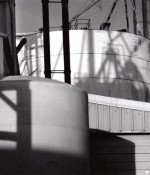 "Prairie Castle"   Black and White Photograph
Driving through eastern Colorado, I was fascinated by the grain elevators or "prairie castles" as they are often known.  It was their structural complexity that attracted me.  This is one of those castles.  At that time, I was working with only black and white film since my husband was a commercial photographer who made his art in color.  Black and white and abstract were my ways of removing any degree of competition I might have felt.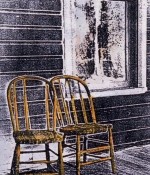 "Solitude"   Hand-Colored Solar Etching
A solar etching is made by placing an image on a transparency against a solar plate, exposing it to the sun, then printing from the rinsed, etched plate.  This was an infrared photograph that I used for a solar etching, printed an edition of print, then hand-colored each etching for an E/V (Edition Variee) meaning the image is the same, but the treatment of each print may vary.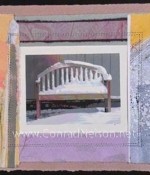 "Chair" series, Altlered Photograph and Mixed Media
In Photoshop, I used the Poster tool to alter a photograph of a bench in the snow, then collaged around it with old pieces of monoprints, etc.  Stitching finished the edges.  This and several sisters/brothers can be found in the Heart of the Rockies Regional Medical Center which has an extraordinary Healing Arts Display.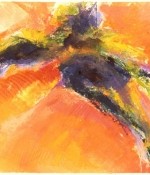 Untitled  Monotype
Using my etching press, this is a monotype that I did based loosely on a scene from Zion National Park. A monotype is a one-of-a-kind oil-based ink print done on a flat surface, such as Plexiglas, the put through a press where  dampened paper lifts the ink from the plate surface.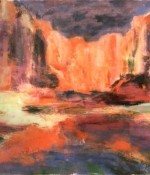 "Chaco"   Acrylic on Canvas
While I was being introduced to the southwest I did several sketches of Chaco Canyon in New Mexico.  I returned home and painted this for an art course.  It is still a favorite but I haven't the patience or endurance to paint now.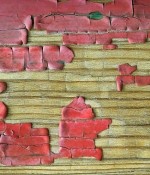 Texture # 5  Colored Digital Photograph
Ah, the change from Black and White Photography to Colored Digital Photography was a hard one for me.  This was a photograph of peeling paint on a door in St. Elmo, CO, a restored mining town.  Recently, it was in an alumni exhibit at Franklin and Marshall College in Lancaster, PA.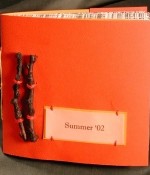 "Summer '02"  Hand-made Booklet
In 2002, I experienced the first serious forest fire year in Colorado.  I was tramatized!  While we were safe, we could see, smell, and breathe the smoke form fires 60 miles away.  At the end of the summer, I could not resolve the fear and anxiety I experienced so I made this booklet.  Inside are little envelopes containing quotes heard over the summer with pictures of burned forests and firefighting.  It did rain, and making the book was cathartic, but as I write this, we are in another year of very strong fire threat.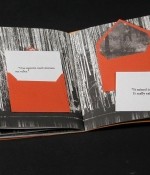 "Summer '02"  Hand-made Booklet  See previous description
This the booklet after my first real "forest fire season" in a high desert.  This is the inside of the book showing my envelopes (lined with newspaper articles on the local fires) and some of the quotes heard over the course of a very tense summer.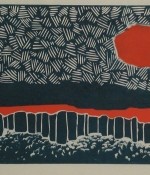 "Red Tide"  Colored Woodblock Print
When I began to be environmentally conscious, I was aware of the ecology problems of farm land toxins draining into the Chesapeake Bay with dire pollution ramifications.  This was a woodcut print I did to relay awareness of that critical environmental issue.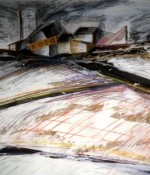 "Sold"  Charcoal, Colored  Pencil on Paper
When I lived in Pennsylvania on a farm, it was devastating to see the sale of beautiful farmland for housing developments, golf courses, and other building.  I once feared moving that far from my friends in the then "suburbs" of Lancaster, PA for fear I would live so far away and never see them.  Many years later, the suburbs had overtaken the farmland.  This piece was a statement on the fate of so many farms nearly by that went the way of the bulldozer unless they were protected with a conservation easement. This particular farm was on a once rural road where I walked.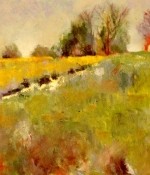 "Murphy's Hill"  Oil on Paper Painting
When I took my first painting class in art school, I was terrified!  Fortunately I had a treasure of a professor who had the patience and perseverance of a saint, Bob Andriulli.  Early on, he lent me an easel which I took home, carried to the field east of our barn to paint this image of the wonderful hill  where I would go with my dog, Murphy, to sit and enjoy the fields and countryside (now developed with housing).  Bob, Murphy, and this painting all hold a special place in my heart.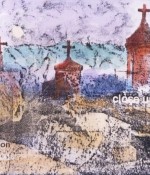 "Death Valley"   Hand-colored Solar Etching of Composite Images
The images within this piece were gathered from photographs from a trip to Death Valley, a graveyard in France and then text was included.  A print of this is in the permanent collection of the Lancaster Museum of Art, Lancaster, PA.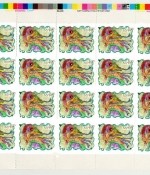 "Falcon Stamps"  Perforated  adhesive sheet of  postage stamps using drawn and colored image
Before one could design and have printed on line their own postage stamps, I did some of my own using drawn or photograph images.  The falcon I saw as a church cornice in France but adapted it for this stamp.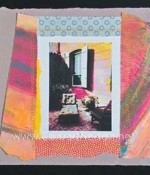 "Chair"  Series  Altered Photograph and Mixed Media
Brother or sister to the bench image above.  I altered the photograph of a chair from a photograph taken at an estate in southern France using Photoshop and the postorizing filter, printed that out, and collaged around the edges with torn papers and old monoprints.  It, too, is in the Heart of the Rockies Regional Medical Center Visitors Waiting Area.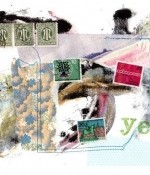 "Yes"  Mixed Media
Several years ago, I took a Creativity Workshop with Carla Sonheim, a nationally known artist, and friend.  We were to make light, happy, creative work using any number of materials.  This series of "Yes", "Maybe", "No" began as blotchy smooshes.  By the time I finished, I had collaged all three using bits and pieces of materials and my signature postage stamps.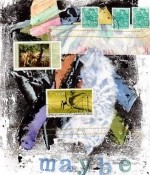 "Maybe"  See "Yes"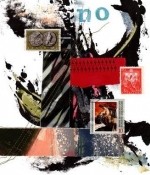 "No"  See "Yes"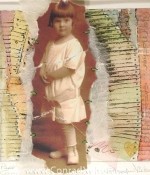 "Past-Present Connection"   Series, Hand-colored Solar Etching, Mixed Media
I began a series using abstract hand-colored solar etchings, photographs of my family, and other materials.  My real grandmother, Elsie, who died after giving birth to my mother, was the pivotal point in the series which include images from both my mother and father's side of the family.  This was a picture of my mother when she was about 4 years old.  The entire series was on exhibit at the Lancaster Museum of Art in Lancaster, PA.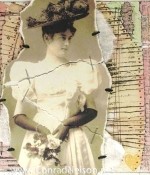 "Past-Present Connection"  Series,  Hand-colored Solar Etching,
Mixed Media
This was my real grandmother who died shortly after my mother's birth.  My grandfather married her sister, Ada, who was the wonderful grandmother I knew, Omi from Omütter in German.  Elsie's death had numerous ramifications on those she left behind.