About
---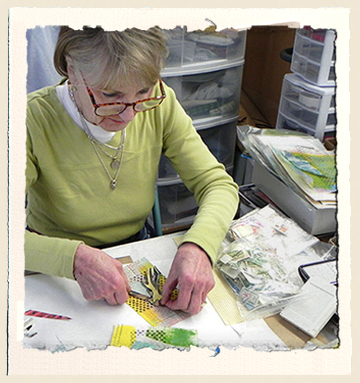 Conrad Nelson is a woman of many talents, or as she would put it, a Jack of all Trades, Master of None!
While she was a corporate banker in Philadelphia, she took courses at the Philadelphia Art Museum and The Fleisher School of Art in Philadelphia. After a banking career, she returned to school to complete her bachelor's degree and while doing that, she used her one elective for an art course.  That was a turning point!  She then went on to get a degree in Fine Arts and at the same time moved to Colorado where she entered the world of exhibitions, teaching, and practice.
During a lull in her working art career for major back surgery, she managed to do what she physically could so she made jewelry and multi-patterned fabric bags.  When a close artist friend died and left Conrad her entire collection of papers and other supplies, Conrad began to work again in mixed media making collages using the inherited treasure chest of "stuff" and her own collection of art and "stuff".  Given much of her early work in mixed media, she has continued to work in this area.
When Conrad is not making art, she contributes her time and financial support to local projects and institutions with landscape design and construction, art experience and ideas, and town and county planning and land use policy.  She was voted Buena Vista Citizen of the Year in 2008.   Given her love of animals, she has devoted a great deal of time and support to the Ark-Valley Humane Shelter and its adjunct facility at the south end of Chaffee County.  In 2012, she was elected the first inductee to the AVHS Hall of Fame.
She loves to garden, read, act as a garden/horticultural consultant, sing in the Collegiate Peaks Chorale (recently portraying a nun in The Sound of Music), knit, play the piano, make artisan bread, volunteer, and treasure her coterie of cats, dog, and horse, her husband and friends, near and far.  She weight trains weekly and while she rides very little, Conrad walks, hikes, and snowshoes.